Welcome Message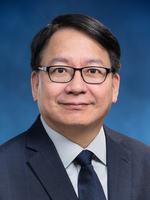 Welcome to the homepage of the Chief Secretary for Administration's Office.
With the double safeguard of the Central People's Government, namely The Law of the People's Republic of China on Safeguarding National Security in the Hong Kong Special Administrative Region (HKSAR) and the improved electoral system of the HKSAR, the HKSAR has got back on the right track of "One Country, Two Systems". I understand that the people of Hong Kong have higher expectations on the HKSAR Government. As the Chief Secretary for Administration of the sixth-term HKSAR Government, I am immensely honoured with great responsibilities assumed. I promise that I will render full support to the Chief Executive to ensure the accurate implementation of "One Country, Two Systems".
I will bring together stakeholders and co-ordinate with bureaux in formulating and fully implementing policies that are conducive to Hong Kong society and our citizens' livelihood, as well as work with departments in exploring procedure streamlining and efficiency enhancement to resolve in a timely manner difficulties faced by our citizens in their daily lives. I will strengthen the executive-legislative relationship and foster healthy interactions so as to come up with suitable legislation and policy initiatives and achieve good governance.
The future of Hong Kong is closely intertwined with the Mainland. I, jointly with the relevant bureaux, will maintain close liaison with the Mainland authorities. We will tap into the good opportunities brought about by the National 14th Five-Year Plan and the development of the Guangdong-Hong Kong-Macao Greater Bay Area to drive Hong Kong's better integration into the national development, leveraging Hong Kong's advantages to serve the country's needs.
Hong Kong has made an important start along the path of governance towards prosperity. We must seize the moment to not only bring the implementation of "One Country, Two Systems" to fruition, but also make Hong Kong a better place to live in for our citizens. You are welcome to contact me by email or other means and let me know your views about my work.
Chan Kwok-ki
Chief Secretary for Administration
The Government of the Hong Kong Special Administrative Region