No greater blessing than good governance No greater harm than chaos:
National security is our shared responsibility and everyone has a role to play
11 April 2021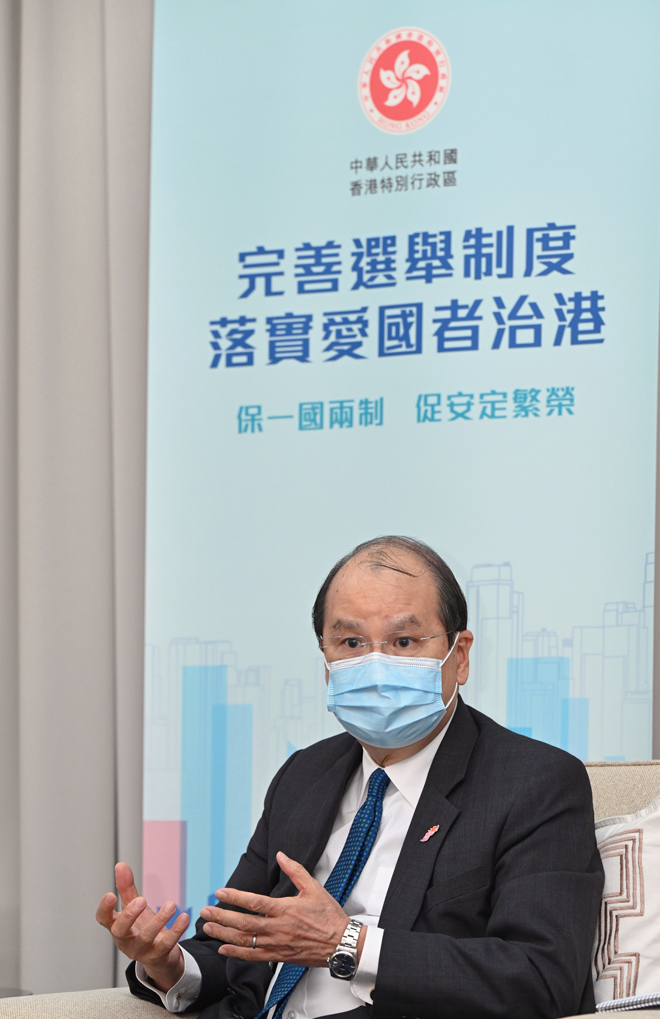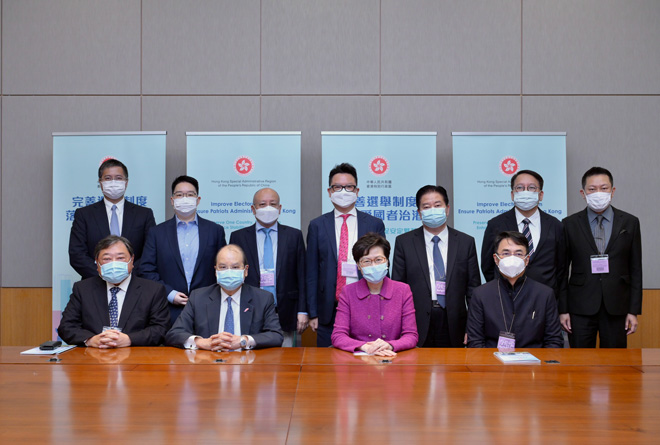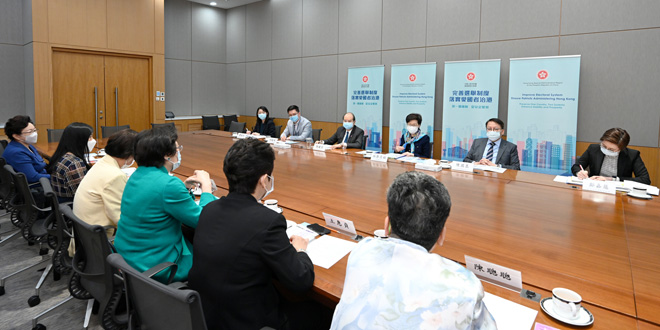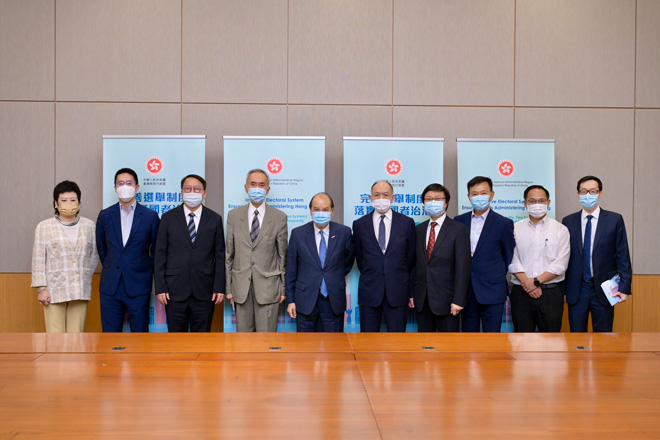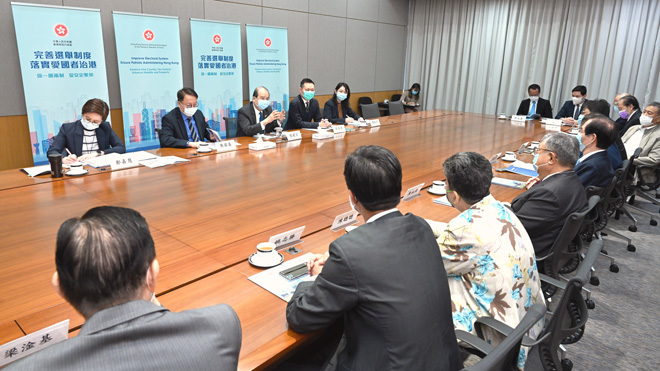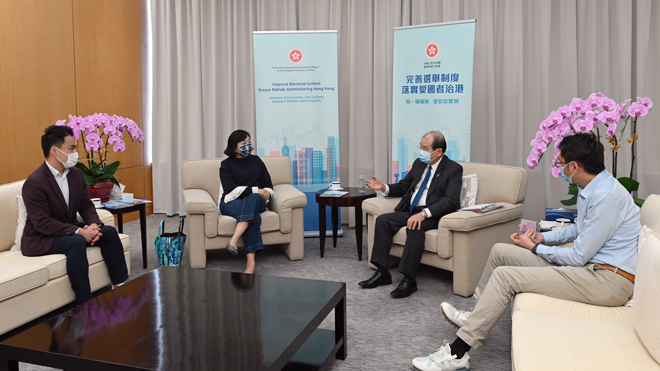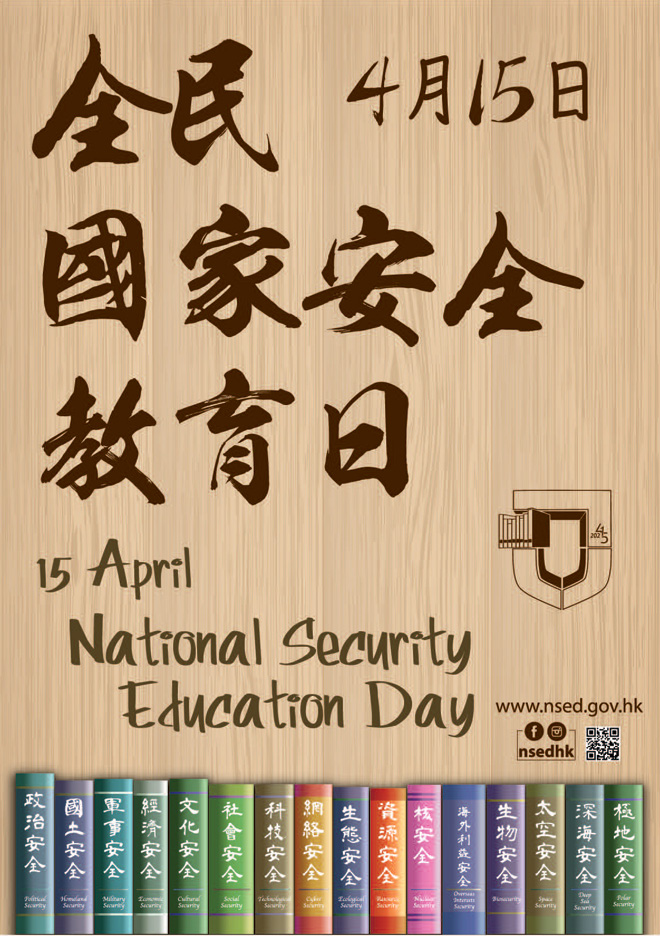 National security is the cornerstone of stability for a country and a society, as well as the bedrock of people's well-being. It is a matter of top priority in our country and other countries alike, and must never be compromised. The more we safeguard national security, the more stability we can bring to our people and the more beneficial it will be to our country's development.
Safeguarding national security is our shared responsibility
The Hong Kong Special Administrative Region (HKSAR), being an inalienable part of the People's Republic of China, is a local administrative region which enjoys a high degree of autonomy and comes directly under the Central People's Government. The Central Authorities have an overarching responsibility for national security affairs relating to the HKSAR, while the HKSAR bears the constitutional responsibility and shall perform its duties in safeguarding national security. I wish to point out that Hong Kong citizens should have a spontaneous sense of responsibility and commitment and walk the walk to safeguard national security.
All of us can take the meaningful occasion of the National Security Education Day this Thursday (April 15) to refresh our perception of national security and its importance to the country, the HKSAR, as well as each and every Hong Kong citizen. What national security matters is not only the country's development interests, but also the vital interests of all people of China and Hong Kong.
In recent years, a pronounced gaping hole has emerged in Hong Kong's national security framework and such a simmering threat must be eliminated in no time. The violent incidents that took place after June 2019, the blatant challenges to the authority of the Central and HKSAR Governments from opposition forces and organisations advocating "Hong Kong independence" and "self-determination", as well as the interference by external and foreign forces in Hong Kong's affairs which are squarely China's internal affairs , have severely jeopardised our national security. The enactment of the Law of the People's Republic of China on Safeguarding National Security in the HKSAR (National Security Law) on June 30, 2020 is a significant move of the Central Authorities in safeguarding national security at the constitutional level, plugging Hong Kong's gaping hole in national security, restoring social stability as well as rebuilding people's sense of security and confidence in Hong Kong. As the saying goes, "there is no greater blessing than good governance and no greater harm than chaos", the National Security Law is enacted for the ultimate security of all Chinese nationals including Hong Kong people. It is indeed a decisive turning point for our city to achieve good governance and restore order from chaos. I am sure the issue of national security and social security will give Hong Kong people plenty of food for thought.
Ensuring political security and ushering in a new chapter
National security means a status in which the regime, sovereignty, unity and territorial integrity, welfare of the people, sustainable economic and social development, and other major interests of a country are relatively free from danger as well as internal and external threat, and are able to maintain a sustained status of security.
As the very foundation of national security, political security is of immense significance in achieving long-term stability and safety of a country. Political security refers to an objective state in which the sovereignty, regime, political system, political order and ideology of the country are free from threat, prejudice, subversion and destruction.
Upon enactment and implementation of the National Security Law, the Standing Committee of the National People's Congress approved the amended Annex I and Annex II to the Basic Law on March 30. It aims to improve the HKSAR's electoral system at the constitutional level and lay a solid foundation for the HKSAR to further improve the national security framework, fully and faithfully put "One Country, Two Systems" into practice, ensure implementation of the fundamental principle of "patriots administering Hong Kong", and fulfil its constitutional responsibility of safeguarding national sovereignty, security and development interests.
Subject to the approval of the Executive Council, the Improving Electoral System (Consolidated Amendments) Bill 2021 will be introduced for first reading at the special meeting of the Legislative Council this Wednesday (April 14). In the past few days, the Chief Executive, Secretaries and Bureau Directors of the Government, including myself, have attended a number of briefing sessions to explain the initiative to improve the HKSAR's electoral system and exchange views with various sectors in order to enlist their support for local legislation.
With the HKSAR's electoral system improved, the simmering threats and risks in institutional mechanisms could be effectively eradicated. Hong Kong could then be extricated from long-troubled political rifts, oppositions and confrontations. As political stability and security are duly safeguarded, and the political structure could be up and running more smoothly, more efforts could be devoted to addressing various deep-seated social problems.
Concept of overall national security
When it comes to national security, people may only think of political security, territorial security and military security, and often consider that the matter bears little relevance to their own selves.
In fact, the challenges that we are facing in this new era have gone beyond political security, territorial security and military security as conventionally perceived. Extensive in breadth and depth, national security has a direct bearing on people's interests and encompasses more than ten other key aspects, including economic security, cultural security, social security, technology security, cybersecurity, ecological security, resource security, nuclear security, overseas interests security and some emerging aspects like biosecurity, outer space security, deep sea security and polar security.
I wish to point out that by "overall" national security, we are referring to a concept which should be construed and put into practice from a macro perspective and in a holistic manner. Each and every of the said aspects is indispensable in the national security framework. In this connection, the HKSAR Government will enhance its crisis awareness and bottom-line mentality, and remain vigilant for potential risks at all times.
Education, publicity and promotion are also of paramount importance in ensuring that national security is unswervingly upheld by all. We will, through a multi-pronged approach, foster public understanding of the importance of national security and look into suitable ways for its further protection.
The Committee for Safeguarding National Security of the HKSAR will organise an Opening Ceremony cum Seminars on the National Security Education Day this Thursday (April 15). With the theme of "Uphold National Security, Safeguard Our Home", the seminars will bring together various keynote speakers to enlighten participants and the general public about the overarching nature of national security from different angles, and how national security can protect people's well-being at home and at work while serving as a buttress for the long-term stability and prosperity of Hong Kong.
The National Security Education Day also features other events including Disciplined Services Academies open day (hosted by the Hong Kong Police College, the Immigration Service Institute of Training and Development, the Hong Kong Customs College, the Fire and Ambulance Services Academy and the Correctional Services Department Staff Training Institute), the National Security Exhibition, the Multimedia Creative Works Competition, and the "Together We Safeguard Our Nation & Homeland" Community and School Mosaic Wall activities.1
Getting vaccinated as soon as possible for epidemic control and the life safety of all
Lingering for more than a year, the COVID-19 epidemic has dealt a heavy blow to many countries and regions around the world. From a public health point of view, the prevailing epidemic battle presents an unprecedented global challenge to biosecurity, which touches upon national security, our social security as well as the life safety of every Hong Kong citizen.
As the country has taken resolute measures to bring the epidemic under control, its economy and society have seen a swift recovery, with enterprises resuming business and production and people's lives basically returning to normal. All these have served as a confidence and motivation booster in our fight against the virus. The epidemic in Hong Kong is on the wane at the moment with the number of cases falling to a lower level recently. The HKSAR Government is sustaining its all-out efforts to take forward the COVID-19 Vaccination Programme, and some 791 300 doses of vaccine have been administered to the public so far.
To protect yourselves, others and the community, I appeal to you all once again to get vaccinated as soon as possible so that our economy can make a speedy recovery and Hong Kong people can return to normal travel.
---