Central Government fully supports strengthening virus testing
Without fear of US Government's sanctions HK braves the rain and charges ahead
9 August 2020
The epidemic in Hong Kong remains volatile despite a slight drop in confirmed cases to double digits for a couple of days last week. Given the large proportion of confirmed cases with an unknown source, high viral load and presence of asymptomatic patients with the extremely high risk of spreading the virus in the community, members of the public should not let their guard down and should continue to stay at home as much as possible, while employers should continue to allow their employees to work from home wherever practicable. If we stand united to fight the epidemic with calm tenacity, I am sure that we will ultimately win through.
Strengthening virus testing
In view of the severe epidemic situation, it is vital for us to find the asymptomatic patients as early as possible to achieve early identification, early isolation and early treatment. To this end, the Government will launch a Universal Community Testing Programme in about two weeks' time. Participation is voluntary and Hong Kong residents without symptoms can receive a one-off COVID-19 test for free. Guided by five principles, the programme will be run for a relatively short period of time, with social distancing observed to avoid crowding and queuing, and electronic means used wherever possible to make it convenient for people to pick up and return the specimen bottles.
We also hope to extend targeted group testing in the soonest possible time to cover those who have frequent contact with members of the public, such as teachers, school staff, frontline hotel and postal staff, staff of public transportation services, elderly carers, and frontline staff of other organisations and companies.
The coverage of community testing will be extended gradually. This includes new rounds of the testing scheme administered by the Home Affairs Department (HAD) which will cover a total of 46 buildings in four districts (namely Wong Tai Sin, Kwun Tong, Tuen Mun and Yau Tsim Mong) and involve about 86 000 residents. Partnering with Yan Chai Hospital, HAD will also launch a community testing programme for pregnant women to provide them with a voluntary one-off free testing service starting tomorrow (August 10). Moreover, in order to mitigate the health risks faced by foreign domestic helpers (FDHs) staying in boarding facilities of employment agencies and reduce the risk of virus spreading in the community, the Government has included these FDHs in the testing scheme and distributed masks to them.
Today is Sunday — the rest day for many FDHs. Employers should discuss rest day arrangements with their FDHs and explain to them the current special circumstances based on mutual respect and understanding. They may encourage their FDHs to spend their day off at home. If the FDHs prefer to go out, employers should remind them to take appropriate anti-epidemic measures, maintain personal hygiene, avoid crowded places and have gathering with no more than one person. As of August 2, a total of 12 FDHs had been fined a fixed penalty of $2,000 for being in breach of the direction on prohibition of group gatherings. The Labour Department will make broadcasts in multiple languages in popular gathering places of FDHs to keep them aware of the anti-epidemic regulations.
Strongest backing from the Central Government
To timely respond to a potential major outbreak in winter, we plan to expand the scale of our community treatment facilities within a short duration. In this regard, the Hong Kong Special Administrative Region (HKSAR) Government has made two specific requests to the Central Authorities. One of them is for additional beds to be provided at the AsiaWorld-Expo (AWE), where some
500 beds
are currently in service and another 400 will be provided by the Hospital Authority if the situation warrants. Our plan is to retrofit the AWE into a Hong Kong version of "mobile cabin hospital" within a few weeks' time by adding about 1 000 negative pressure beds in its other exhibition halls. Another request is for constructing within several months' time a temporary hospital as the Hong Kong version of "Huoshenshan Hospital" (火神山) on a 3.2-hectare piece of land near the AWE.
The Central Authorities' proactive response to our requests is a shot in the arm for our anti-epidemic work. We are deeply grateful for their care and support in providing all necessary backing and assistance for our battle against the epidemic.
Fighting the disease is the prime concern of the people of Hong Kong and China as a whole. We are fortunate to have the strongest backing from the Central Authorities in our anti-epidemic work. Such much needed support, however, has been depicted by some as a conspiracy. By spreading rumours, creating conflicts and discrediting government's efforts on the Internet, these people have despicably attempted to sabotage Hong Kong's relationship with the Central Authorities and hurt the national feelings of the Chinese people merely to pursue their self-serving political interests. To the Central and HKSAR Governments, protecting the safety and health of Hong Kong people takes the highest priority. We hope that people will focus on scientific evidence, discern right from wrong and not be distracted by rumours.
Fearless of sanctions
The National Security Law for the HKSAR (NSL) seeks to effectively contain security risks at the state level, and at the same time ensure our long-term stability and safety. This will afford Hong Kong residents the peace of mind to live and work here as well as a stable environment conducive to business and investment. The NSL was enacted to ensure the resolute, full and faithful implementation of "One Country, Two Systems", "Hong Kong people administering Hong Kong" and a high degree of autonomy. The capitalist system, high degree of autonomy and legal system of the HKSAR remain unaffected. The executive, legislative and independent judicial power, including that of final adjudication, will also remain unaffected.
The NSL clearly stipulates that the HKSAR shall protect the rights and freedoms enjoyed by residents under the Basic Law and the provisions of the International Covenant on Civil and Political Rights and the International Covenant on Economic, Social and Cultural Rights as applied to Hong Kong in accordance with the law. It will not affect the legitimate rights of Hong Kong residents to exercise their freedom of speech, such as criticising government policies or policies and decisions made by officials. Neither will freedom of information, academic freedom, policy studies, personal data privacy and general business activities be compromised.
Last Friday (August 7), the US Consulate General Hong Kong and Macau incorrectly and inappropriately commented that the NSL would affect the freedom of speech of Hong Kong residents. This serious and unfounded allegation smacks of political manipulation and double standards and is a gross interference in China's internal affairs. The HKSAR Government strongly deplores and opposes the comments.
The HKSAR Government also firmly opposes and strongly condemns the so-called "sanctions" imposed by the US Department of the Treasury on a number of principal officials of the Central and HKSAR Governments. Hong Kong issues are purely China's internal affairs, which should not be interfered by any foreign countries. It is arbitrary and unreasonable for the US Government to blatantly and implement in a high-sounding manner the so-called "sanctions" - a move violating international law and the basic norms underpinning international relations. The deliberate act of making public the personal information of government officials is a serious breach of privacy and a threat to personal safety. These so-called "sanctions" will not intimidate us. Instead, we will brave the rain and charge ahead and fully support the Central Government in taking counter-measures.
Neither should we be over-anxious about the US Government's decision to revoke the special treatment status of Hong Kong. Leveraging on its solid foundation and unique advantages, and underpinned by the Mainland's burgeoning economy, Hong Kong is capable of protecting its long-term prosperity and stability against the so-called "sanctions" imposed by western politicians. The unique position we have is never a "gift" from western countries.
Capitalising on our unique advantages
"One Country, Two Systems" is the cornerstone for the long-term prosperity and stability of the HKSAR. With the absolute determination of the Central Authorities to implement "One Country, Two Systems", we know for sure that Hong Kong is able to maintain and enhance its fundamental strengths of, among others, the rule of law, independence of the judiciary, free and open trade policy, level playing field and free flow of capital.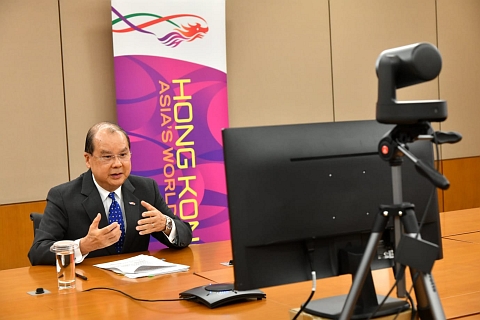 At a webinar held last week, I explained to people in the United Kingdom who were concerned about Hong Kong's development the object and purposes of the NSL. I made it clear that with the support of national policy and the efforts of the HKSAR Government, Hong Kong will remain a popular, resilient and competitive economy, playing an indispensable role in bringing international and Mainland markets and companies together. In the face of market volatility, Hong Kong has always been and will continue to be a dynamic international financial centre as well as the first-choice fund-raising platform for global companies.
Hong Kong enjoys clear advantages in financial services thanks to our freely convertible currency, world-class banking system and stock market and a host of professionals underpinning our financial sector. Hong Kong topped the world again last year in funds raised by initial public offerings (IPOs), taking in some US$40 billion.
In terms of total IPO funds raised, Hong Kong ranked first in the world seven times in the past 11 years. This year, Hong Kong's IPOs raised a total of HK$132.1 billion as of end-July; and the average daily turnover of our stock market amounted to HK$124.8 billion, representing an increase of over 40% from that of the entire year last year. This fully demonstrates the recognition and confidence that international market participants have given to Hong Kong's financial system.
Integrating into the country's overall development will open up enormous opportunities for Hong Kong in the long run. Difficult times will pass sooner or later. If we manage to bring the epidemic under control and restore normalcy to our economy and society, Hong Kong will be able to see a wealth of opportunities ahead.