My Blog
Universal health coverage
1 April 2018
The World Health Day is celebrated annually on 7 April to mark the anniversary of the World Health Organisation, with a designated theme each year on a particular global issue of public health. This year's theme is "Universal health coverage: everyone, everywhere".
The concept of "universal health coverage" has long been incorporated into the Hong Kong Special Administrative Region (SAR) Government's healthcare policy. And the services delivered by our public healthcare system, which is acclaimed as the world's most efficient system, play a pivotal role in safeguarding the public health of our population.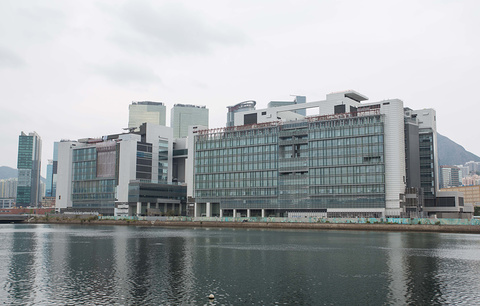 Hong Kong Children's Hospital
Over the years, the Government has endeavoured to provide comprehensive life-long medical care for every citizen. Through our highly subsidised public healthcare system, we ensure access to affordable services for those in need and that no one will be deprived of appropriate treatment because of lack of means. That is what "universal health coverage" should be.
About 90% of the in-patient care in the territory is now provided by public hospitals. And demand for public healthcare services is ever increasing as a result of accelerated population ageing, longer average lifespan and increased prevalence of chronic illnesses in our city. Hong Kong tops the world in longevity – with average life expectancy of males at 81.3 years and females at 87.3 years. This is to a certain extent attributable to our high-quality, reliable, accessible and comprehensive public healthcare services heavily subsidised by the Government. Our medical system, however, is facing tremendous pressure arising from imminent social and demographic changes. Planning for the future has become the most urgent priority for the Government.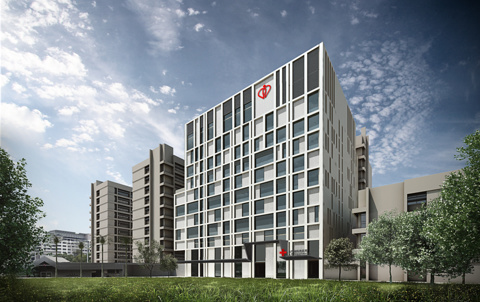 Extension of Operating Theatre Block of Tuen Mun Hospital (photomontage)
We care for people's health protection. Substantial investments are being made to enhance and sustain the medical system and services. Increase in recurrent government expenditure in that regard has averaged 7% over the decade. Spending on public healthcare services will rise by 13.3% to $71.2 billion in 2018-19, accounting for 17.5% of total recurrent expenditure.
Additional recurrent funding of nearly $6 billion, representing an increase of 11%, will be allocated to the Hospital Authority in 2018-19 for the provision of more hospital beds and operating theatre sessions, higher quotas for general out-patient and specialist out-patient services, and the manpower required. Future recurrent provisions for the Hospital Authority from the Government will also be increased progressively on a triennium basis, having regard to population growth and demographic changes, to facilitate effective resource planning.
Redevelopment of Kwong Wah Hospital (photomontage)
Upgrade of our healthcare infrastructure is needed to enhance the quantity and quality of public healthcare services. In this connection, the first Ten-year Hospital Development Plan, for which $200 billion has been earmarked, was announced in 2016 and is now being implemented. Projects which have commenced include: redevelopment of Kwong Wah Hospital, Queen Mary Hospital, Kwai Chung Hospital and the Prince of Wales Hospital; expansion of United Christian Hospital, the Operating Theatre Block of Tuen Mun Hospital, and the Haven of Hope Hospital; and the new acute hospital at Kai Tak Development Area. Other projects being taken forward are redevelopment of Grantham Hospital, Our Lady of Maryknoll Hospital, etc.
The first ten-year plan is expected to deliver about 5 000 hospital beds, 94 operating theatres, 30 day beds for haemodialysis, 3 oncology centres and one state-of-the-art neuroscience centre. The capacity of specialist out-patient and general out-patient clinic will also increase by 2 857 800 attendances (42%) and 438 800 attendances (8%) respectively, significantly shortening the waiting time for patients.
We will seek funding approval from the Finance Committee of the Legislative Council before the end of the current legislative session for five projects under the ten-year plan, namely redevelopment of Kwong Wah Hospital, Queen Mary Hospital, Grantham Hospital and Our Lady of Maryknoll Hospital, and construction of the new acute hospital at Kai Tak Development Area. These projects are important for the well-being of our society. I earnestly hope that members of the committee will, in the long-term interest of Hong Kong and for the good of the public, deal with the prioritised funding requests in a pragmatic manner, so that the works can start as soon as possible and the projects can benefit the public at the earliest possible time.
Meanwhile, to ease the pressure on public healthcare services, the Government has set aside a sum of $300 billion as an initial provision to support the second Ten-year Hospital Development Plan, improve clinic facilities of the Department of Health, and upgrade and increase healthcare teaching facilities. The second ten-year plan will cover the study of in-situ redevelopment of Princess Margaret Hospital and Tuen Mun Hospital, construction of a new hospital at the King's Park site (i.e. the existing site of Queen Elizabeth Hospital) and expansion of North Lantau Hospital. It is expected to deliver 3 000 to 4 000 additional hospital beds and provide additional facilities and quota for consultation.
The provision of community healthcare is equally important. We will improve clinic facilities of the Department of Health and plan for other public healthcare facilities, such as community health centres and ambulatory care centres. The first district health centre will be set up in Kwai Tsing District in the third quarter of next year.
In addition, we will upgrade and increase healthcare teaching facilities at universities. Invitation for proposals was issued to relevant universities earlier on and discussion about the financial commitment will follow.
Manpower training is a matter of urgency as the prevailing acute staff shortage is straining healthcare personnel. Over the past decade, the number of training places funded by the University Grants Committee (UGC) has substantially increased by about 60% to almost 1 800, of which the number of bachelor degree places in medicine has increased from 250 to 470, representing a rise of almost 90%.
The Government is discussing with the UGC further increase in publicly-funded training places for doctors, dentists, nurses and relevant allied health professionals in the coming three years. According to the QS World Universities Rankings by Subject 2017, the world's best dental school is the Faculty of Dentistry at the University of Hong Kong. We plan to invite the universities concerned and the Prince Philip Dental Hospital to actively consider further enhancing and increasing teaching facilities so as to expand their capacity for healthcare manpower training.
The Hospital Authority has pledged to employ all qualified local medical graduates and provide them with relevant specialist training. Over 2 000 medical graduates will register as medical practitioners in the next five years. The Hospital Authority will make every effort to retain existing and rehire retired healthcare professionals as appropriate. It will also proactively recruit qualified non-locally trained doctors through limited registration to provide clinical services in the public healthcare system.
Along with the commencement of the Ten-year Hospital Development Plan and enhanced training for healthcare professionals, the Government will comprehensively review the provision of public healthcare services with a view to drawing up a blueprint to improve and develop the services and facilities that suit the needs of the community and upgrade our medical service delivery to meet future demographic changes.